Your eCommerce Web Designer
I am a freelance eCommerce web designer in Manchester who can help your business to grow with an online shop for your website. Whatever your business and requirements, I will help to create the perfect website designed with eCommerce functionality, tailored specifically to you. Considering going with an agency for your web design needs because you think it will be better for your business? Think again!
As a freelance eCommerce web developer, I offer:
eCommerce UX Design
To make your customer's journey through your website, a satisfying and rewarding experience.
Visual & User Friendly CMS
Using WordPress, managing your online shop is as easy as personalising your Facebook account.
Better value for money
I do everything an agency can do for you, but without the extra charges for business overheads.
Safe & Reliable Hosting
With frequent security checks & backups, one of the fastest & safest cloud servers in the United Kingdom.
Smart E-Commerce UX Design
Website Design with
eCommerce
I work as a freelance eCommerce website designer based in Manchester. I work with local, national and international clients that offer different products and services. This experience has taught me flexibility in my eCommerce website design and how to tailor my services to meet a range of requirements.
Freelance
WooCommerce

Developer

I understand that each business has unique needs and will require different strategies to thrive. That is why I use the latest design and integration strategies on WordPress and WooCommerce to build an online shop for your website that meets your needs.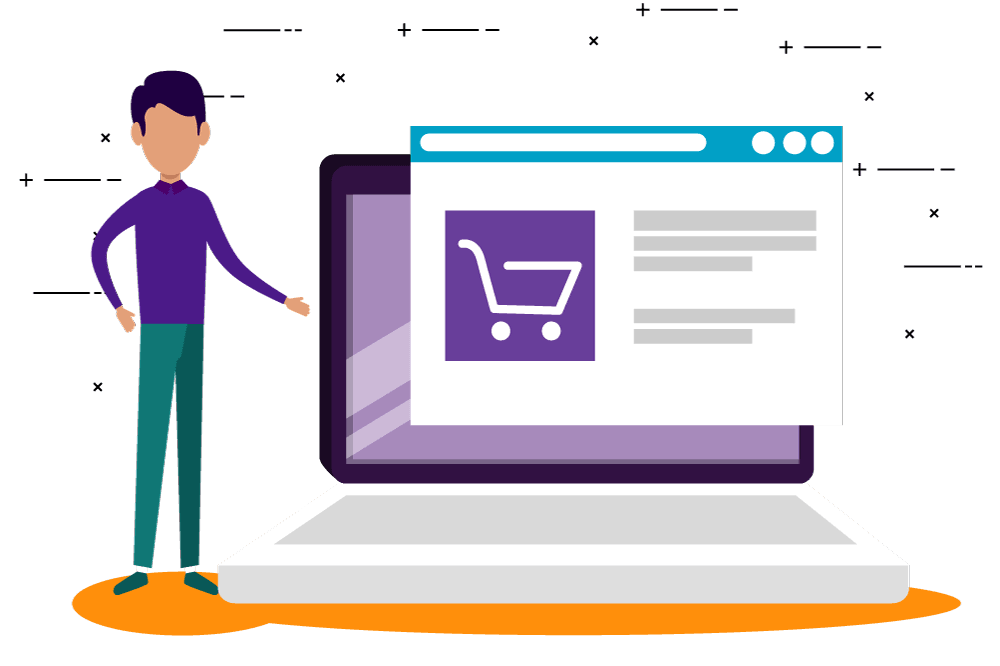 Why Choose a Freelance E-Commerce Website Designer?
As a freelance E-Commerce web developer, I can offer all the services of an agency, but in one place! This advantage makes communication much easier and means we work on your terms. I work with clients of all sizes and capacities and produce excellent website design with E-Commerce solutions. By using a freelancer, you will be saving yourself money too!
Better Content Management
Keeping up with customer needs can be challenging and can make or break a business. I offer cutting-edge content management systems as part of your E-Commerce web design. With my help, you can stay ahead of your customer expectations, adding and removing products with ease, and launching promotions in no time at all.
Choice of Different Platforms
I work with both WordPress and WooCommerce, giving you more choice where you host your E-Commerce website. More than anything, as an E-Commerce web designer, this gives a much greater flexibility to hone the website to your exact requirements.
Search Engine Optimisation
The key to making it online is Search Engine Optimisation or SEO. Businesses that do not keep up fall behind incredibly quickly. But at the same time, it is tough to reach the top. E-Commerce SEO is my specialty, and I can help get your website ranking high with customised optimisation strategies. I will find you the most effective keywords for your business and then build a plan to get you results.
Secure Payment Guaranteed
Customers expect security online for their payments, and will often refuse to buy if they do not trust the payment system. I will make sure your E-Commerce web design comes integrated with secure payment systems, and multiple ways to pay (PayPal, Stripe, etc.). This practice ensures your customers will have a safe and smooth payment experience, meaning they are more likely to come back.
Functionality Across Multiple Websites
More and more companies are offering products across multiple E-Commerce websites. If your business is one of them, then I can help design various online shops for your websites that you can easily manage together. Diversify your offerings and increase your reach by providing to more customers than ever before.
Enhanced Scalability
Outgrowing an old website is very common for a business, and is a sign it is doing well. However, not managing the problem early can put a halt to this growth. As an E-Commerce web developer, this is not something I want your business to experience with its new E-Commerce website. That is why I continuously monitor the site to make sure it still suits your needs, and I will make any changes if that is not the case.
Cross-platform Accessibility
One challenge for many E-Commerce websites is making their content easy to access across a range of devices. I will make sure your new E-Commerce website will be attractive and accessible to all customers, regardless of which equipment they use to access the internet. This characteristic is now an expectation for customers, and having a poorly designed website will stop them from buying.
Customised E-commerce Web Design
Anyone can go out and buy a pre-made website, and many people do when their business is new. However, as you grow, these websites fail to live up to your customer's expectations. I can help create a bespoke online shop for your website that provides everything your customers expect. The best way to stand out from the crowd is to give them a unique experience, and that is what I offer.
Build Your Brand Organically
Using SEO to create an E-Commerce website that search engines can identify is good, but even better is to build your business organically. Part of this is being easy to find and recognisable and offering quality content. I use the latest E-Commerce keyword research and targeting strategies to help your new E-Commerce website grow organically, just as it should.
Data Protection Compliance
Customers are protective of their data, and rightly so. Businesses must offer customers the data protection they expect; otherwise, they will not use their services. Every E-Commerce website I build complies with data protection, such as GDPR, and other worldwide data protection laws.
Custom Audience Targeting
Online marketing is a rapidly changing industry, and it can often feel like a losing game. Targeting the right audience involves many things, but one of the most important is to give them an accessible E-Commerce web design. Everything I design incorporates your ideas and knowledge about your customers to provide them with an E-Commerce website they will enjoy using.
Make the Most of Your Analytics
Almost all businesses analyse their traffic, so why should yours be any different? I have experience in a range of analytics services, and so can help your business keep track of its customers. Along with this, I can help you find out more about your customers, allowing you to update your services to suit their needs. Knowing how they interact with your E-Commerce website means you can make everything much more streamlined.
What they say about freelance web designer
Client Testimonials
Tiago is very professional, approachable and excellent freelance web designer from Manchester, United Kingdom. He is easy to deal with. I'm looking forward to working with you again.
Great communication, understood the brief and was quick with submission - all for an affordable price. Would recommend
Very professional and efficient. Looking forward to working with Tiago again in the near future
Carlo Bertozzi Privat
11:52 05 Mar 20
I highly recommend this service to anyone was really happy, and thinking of new projects together. Very patient and knows exactly what his doing work rate is just amazing wouldn't recommend anyone else but freelance web designer
Ali Erdogan
20:50 25 Feb 20
Tiago is extremely professional and approachable. He does amazing work and is always happy to help in any way he can.
Andrew WEston
20:01 17 Feb 20
I have given Tiago 5 stars for the following.Excellent Customer services , always on hand to answer questions and do what is required.He has done what he said he was going to do and increased my Google rankings.And the my main reason was because he revamped my entire site because my last web company seemed to just be taking my money.I would highly recommend him and his services. Happy with my new site and our ongoing working relationship. I hope it is a long one, great working with you Tiago , keep up the good work.
I tried other freelance web designers in the past but I have never had an experience like this! Tiago is so friendly, quick to answer my questions and such a talented professional! I am so glad I asked him to build this website, it's perfect for what I need. I highly recommend his website services to anyone looking for a web developer in Manchester. Thanks Tiago!
Lisa O'Connell
11:24 24 Jan 20
I wanted to do a website that catch people eyes and get bookings , I spoke to Freelance web design and i am so happy I did as since i went online the ammount of people i got from website I cant even explain, I highly recommend the work of this company , dont look no where else just contact them now
Take A Break Travel Malta
10:42 24 Jan 20
Excelente profissionalismo, rigor e dedicação.Recomendo a 100%
Excelente profissionalismo ,dedicação e rigor.Adoramos todo o site e o acompanhamento por parte do Tiago.Recomendo a 100%
Highly recommended....Very fast, easy to deal with and delivers great work..always a pleasure to work with a professional!!! 👍👌
Highly recommended....Very fast, easy to deal with and delivers great work!!!
Filip Janssens
12:47 14 Jan 20
Amazing service! The results are outstanding thank you!
Adam Hollingworth
13:14 26 Dec 19
Very quick and professional service. Will recommend to anyone struggling with setting up website.
Carvalho Lima
20:39 13 Dec 19
Through his sincere engagement in our project we were able to build an awesome, well-functioning website, according to our desires. Highly recommended!
Agam Jamwal
17:00 09 Nov 19
Having had previous bad experiences with either agencies or freelancers, it was refreshing finding Tiago. He is to the point and doesn't mess about. He gets the job done quickly and goes far beyond what you ask him to do. I am so very happy I have found him and will be my to go guy for any website issues from now on.
Setareh Rad
09:02 28 Oct 19
Project after project, Tiago always keeps the same level of quality and support. It has been over three months now since he started helping me with my...
Project after project, Tiago always keeps the same level of quality and support. It has been over three months now since he started helping me with my client's websites. He's not only a talented freelance web designer, but he is also a great communicator. Always explaining things in the best way possible and whenever there is a challenge, he comes up with a solution! I will undoubtedly keep sending new projects to him, and I would strongly recommend his web design services to anyone in Manchester or even the UK.
wphosteeDotCom
19:46 06 Oct 19
I had been looking for a freelancer in web design in Manchester to work with and came across Tiago, a Freelance Web Designer and has been a great decision made. Always coming up with innovative ideas and ways to make UI/UX pleasing to the eye and not overly complicated. Couldn't recommend him in any higher regards.
I had been looking for a freelancer in web design in Manchester to work with and came across Tiago, a Freelance Web Designer and has been a great decision made. Always coming up with innovative ideas and ways to make UI/UX pleasing to the eye and not overly complicated. Couldn't recommend him in any higher regards.
lewis cambridge
22:38 05 Oct 19
Works quickly & a great communicator. Tiago built a site that feels purpose-built for our needs without ever over-complicating it. Great work!
Tiago works quickly & is a great communicator. He built a site that feels purpose-built for our needs without ever over-complicating it. I'd highly recommend.
Alex Tebay
09:32 12 Sep 19
Leading me trough the process , showing me the details. It's easy to work with him. Hard working guy, best around!
Dido Dimitrov
21:02 03 Sep 19
My self as a web dev I definately recomend them to have your next website created! 🙂
Filipe created me a FANTASTIC website ! Very professional service and an absolute pleasure to deal with. I would highly recommend his services to anyone.
Gary Jessop
11:37 22 Jul 19
Eu descobri o contato atraves da internet.Agradeço toda a atenção, simpatia, dedicação e recomendações, na construção do meu web site.Voltaremos a trabalhar juntos novamente.Muito ObrigadoI discovered the contact through the internet.Thank you for all the attention, sympathy, dedication and recommendations, in the construction of my web site.We will work together again.Thank you very much
Joaquim Sousa
12:16 08 Jul 19
I strongly recommend Tiago for his skills, friendly approach and great customer support! My website looks AWESOME, it's super fast loading and my clients love it! Thank you so much!!!
Superb experience all round! It was a pleasure to work with Tiago, he is so talented and full of innovative ideas! He didn't limit himself to web design, he also helped us with SEO, with our Google Listing and with issues we had from our old domain. The best of all, our clients love the website and we felt a massive increase of online enquiries, maybe because the new website he did for us went to the top of google for LOADS of search terms about tattoo and Tameside/surrounding areas!!! If you need a Freelance Web Designer, definitely go with this one... Thank you so much for everything and for your ongoing and invaluable support.
Penetrated Ace
19:24 21 Jun 19
Excellent service from a very dedicated professional, extremely helpful and the finished website is perfect and exactly what I wanted.
Angellavis
18:54 08 Jun 19
Filipe built me an amazing website, I had so many positive comments about it since I've started this project! He's always been there for me since the start and I'm really grateful for solving my problem with ease. I am so impressed with the whole experience, thank you so much!
Tiago Teixeira
08:55 02 May 19
Filipe created me a FANTASTIC website ! Very professional service and a pleasure to deal with. I will definitely be recommending his services to friends and family.www.daytrip4u.eu
Really professional services. I would recommend to anyone who wants a professional, reliable and attractive website.My business changed to better since I have my new website.Thanks for the good support
I love my new website! 😍 Great support and highly skilled web designer! Strongly recommend his service.
I would recommend this company to everyone 5 * very professional and always on hand to help. My website looks amazing too!
I offer
eCommerce

websites to suit multiple business needs.

No business is the same, which means there is no "one-site-fits-all" solution.

I offer a wide range of unique eCommerce web design packages, but these are the most popular areas:
Standard online shop. All you need is a simple online shop to sell physical or online products to a broader audience.
Event sales site. Taking payments and bookings for events online is a given nowadays. Give your customers a smooth and secure experience with a bespoke eCommerce booking platform.
Subscription products or services. Selling subscription-based products and services has never been easier. I can arrange an integrated online shop for your website that offers this specific service.
Wholesale eCommerce. Build an easy to use eCommerce website for selling your products to retailers or resellers, offering the same services as any other eCommerce website.
Affiliate eCommerce. Affiliate selling is becoming more and more popular. I can develop an eCommerce website for you to start earning a commission for selling products from other shops.
Dropshipping. Use your site to offer dropshipping services to other companies by selling their wholesale products for them.
Setting up one of these eCommerce websites for success can be a challenge, but I will work closely with your business to design an eCommerce website that is up to scratch.
Want to build a type of eCommerce website not listed above? Do not hesitate to contact me, and we can discuss your ideas in much more detail.
What features you can expect with your
eCommerce

web design.

A good eCommerce web developer can meet the expectations of both your business and your customers. Finding this balance is the key to the success of your business. Part of this is offering all the basics that customers expect from your eCommerce website. As part of your web design with eCommerce functionality, you can expect the following features:
Efficient stock management. Track your stock, offer email notifications, and efficiently manage out of stock items.
Multiple payment options. Secure debit/credit card services, PayPal or other online payment services, bank transfer, and many more.
Clear shipping costs. You have the option of a shipping cost calculator or automatic shipping cost calculation; whatever suits your business better.
Different shipping methods. All the options you could need, from free shipping, local or international, to store collection.
Optional customer reviews. Your business might thrive on customer reviews, or you might not need them. You have the option of including a product review function on your eCommerce site.
Enable discount codes, Flash promotions or end-of-season sales. Whatever the reason, you can choose a discount code, expiry date and many other redemption conditions.
These are the services offered on all eCommerce web design packages. However, one of the great things about WordPress and WooCommerce is that there are so many more options available. Perhaps you have got unique business needs that fall outside of those listed above. If so, contact me, and we can discuss everything in more detail.
It's time to bring some art to your cart!
If you reached this point, the rest is fast, easy & obligation-free!
It takes less than one minute.