So, you're looking for a web designer near you. It can be a minefield if you don't know what to look for.
Do you choose a freelancer, in-house web designer or an agency? Do you base it on word-of-mouth or customer reviews? How do you know that a particular web designer will be right for your project? Confusing right?
Perhaps you hadn't even thought of some of these questions, but at least you have now!
I've put this article together to help you decide how to go about choosing the right web designer for your needs, but you can always skip it and shoot me an email, haha!
Anyway, read on for more information about the questions you should be asking yourself, and then how to decide on the right website designer for your project.
Should I hire a freelance web designer or a web design agency?
Whether you are upgrading your old website or simply need a new one, it always starts with the most crucial question: Do you choose a freelance website designer or go to a digital agency?
Surely an agency has some obvious benefits, but that's not always the case. After all, you might find a freelance web designer (like me) has more time to devote to your project.
Here are the main differences between freelancers and web agencies, which will hopefully help you to answer this first and essential question.
Cost.
There's almost no doubt with this one; a freelancer should always be cheaper than an agency.
And if they're not, then you're asking the wrong freelancer, or there is something wrong with the agency that gave you a quote.
A freelancer will usually work from home or small office space, which means they don't have as many costs to meet.
With an agency, however, they have to cover all the extra costs. The office space, equipment, and even the staff who isn't working on your project.
This issue doesn't need any more explanation because a freelancer will almost always win on cost over an agency.
Services.
Surely an agency will have a better range of services?
Not always, freelance web designers like myself do everything possible to diversify our service package so that we can compete with these big agencies.
Similarly, many freelancers will have friends or colleagues for advice, if nothing else, which means they might not work as alone as you think.
When it comes to agencies, there's no denying that by having more people they're more likely to have a more significant range of services.
However, the trade-off with this is that your new website will pass around between several people, and if the communication isn't there, then ideas can easily be lost along the way.
And on that note comes one of the most important issues when deciding who will work on your project:
Communication.
It hardly needs saying that you expect excellent communication when you pay someone plenty of money to build you a new website, but who will be better at communicating?
When it comes to freelancers, they generally try to be available for you whenever even if this means outside of typical office hours.
If nothing else, most freelancers will respond to an email, but many are happy to deal over the phone too.
What's more, agencies will typically have many clients at one time, and will often have a receptionist of some kind fielding their calls.
This means messages can get missed or might take a while to reach their intended recipient, which is all time wasted.
And when their time is on your money, this is the last thing you want.
So, freelancer or web design agency?
Of course, there are plenty of things to consider when it comes to hiring a web designer, but the first decision is whether to choose a freelancer or agency.
In general, freelancers will be more available, cheaper, and more responsive to communications, meaning your project will hopefully be smoother.
In my opinion, a freelancer wins every time.
DID YOU KNOW…
In 2019 alone, worldwide e-commerce grossed roughly £3.1 trillion.
A website is your portal to this slice of profit, while still being inexpensive to make and somewhat easy to maintain. The first step to any successful business website is, well, making it. You must make one, that much is clear. There's no reason not to have one, then, while there's ample business opportunity to emerge from having one.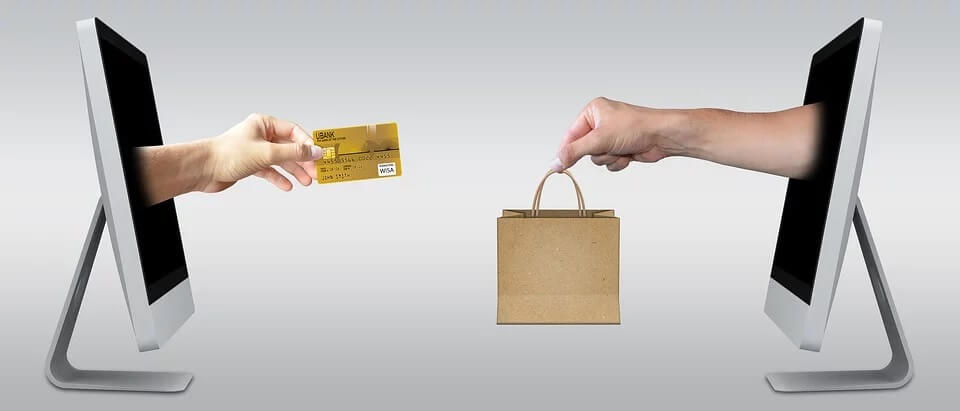 E-commerce is an invaluable asset to any business
Many concerns will arise along the way, such as promoting it and fine-tuning it accordingly, but the first, fundamental question remains – who will make it?
I compared a freelancer with a web design agency, but there are two more options available:
Hiring an in-house web designer
Doing it yourself
Option #2 is undoubtedly viable in some circumstances, and lots of online material can help with that. But in most regards, professional help is always preferable if you can obtain it. Hiring a web designer near you, in this case – in-house ones or freelance ones.
If you're here, it should be safe to assume that this dilemma concerns you too.
Should I hire a freelance web designer or an in-house web designer?
For a simple initial breakdown of the two, a rule of thumb would be to consider your website's role and significance. It will be your business's 24/7 representation, so it needs to be done right on the first try; you can correct minor mistakes and oversights over time, but you need to prevent critical flaws. It is vital; your site must work properly as soon as you launch it. After all, a visibly dysfunctional or poorly presented website can create a very negative first impression on customers, which may be hard to remedy later.
Your web designer, in-house or freelancer, must get it right in one go.
That said, just what your business intends to gain from its site can vary; thus, the ideal web designer can differ too. To oversimplify the issue, a new business may need to establish a web presence and little else – a freelance designer or a small agency may be ideal for that. A company that hinges on e-commerce may find complex site functions and items to be critical marketing assets – an agency may be best suited to provide such varying skillsets.
Should I make my own website or hire someone?
Popular myths aside, it is indeed a viable option to make your website yourself. There is a very personal sense of achievement when one's website is one's own creation, top to bottom. It ensures that the web presence one establishes is strictly and completely their own, and smaller starting businesses may not need much more than a simple, functional web presence. There is ample online material that can assist you with this, and moderate familiarity with WordPress can be both very beneficial and rather easy to acquire.
That said, most individuals do not tend to possess enough expertise in this area to be wildly successful. Anything beyond the basics may not be feasibly left at the hands of a single individual, or even a small circle of their friends; basic websites may be easy to make, but refining, updating and maintaining them may require an advanced skill set.
In short, making your website yourself will likely not be the best choice in most cases. Budget concerns are understandable, but both in-house and freelance web designers can be very affordable – the latter even more so. Hiring professionals will thus be a profitable investment; your business can only benefit from a professional presence, and even the cheapest options will certainly offer more than inexperienced individuals' expertise can.
Keeping up with a website's demands and needs may end up being challenging for some
Hiring Freelance Web Designers
PROS
Cost.
Freelance web designers have far fewer work expenses and standard costs, such as office rent or staff salaries. They set their own rates and are thus more flexible – typically charging by the hour, which can only cut down on the final price.
Specialisation and involvement.
Most freelancers tend to be specialised in their field, making them the perfect solution for individual tasks. Refining specific features or functions is thus both more efficient and less costly than hiring a full agency team.
Since freelancers are individuals, rather than hierarchical teams, there is much more room for personal involvement. As a client, you can be involved in the creative process much more easily.
CONS
Manpower and turn-around.
Since freelancers are not supported by large teams, they often need to manage their own schedule and stretch it across many projects. It's thus not unlikely that they may be too busy to respond or complete their task as swiftly as an agency if their schedule doesn't permit it.
Managing.
Since they are often specialised, larger projects may require that you employ multiple freelancers. Since there won't be a structure to coordinate them beyond individual contact, it may be harder to manage their work and make sure the end result suits your preferences.
Hiring In-House Web Designers
PROS
Credibility.
Web designer agencies need to uphold their reputation, both among their industry peers and among their community. It is in their best interest to remain competitive and therefore offers quality services. Reviews hold them accountable for their work, and it is generally easier to hold a named agency accountable in their sphere of work.
Resources & expertise.
Agencies usually have access to a wide array of resources, such as design materials and technology, since their budgets tend to be higher. They often also have in-house tools to assist with content management and even website hosting.
It is very common for an agency to have professionals from various areas of expertise. A successful, highly regarded agency will often be comprised of reputable employees with years of experience. This also means that, more often than not, they will also have business connections to rely on if need be.
CONS
Cost.
In-house web designers will inevitably be more expensive. Agencies have multiple employees on any given project, as well as physical office spaces; thus, their rates will be higher, and so will fixed costs.
Bureaucracy.
Role hierarchy and internal processes are also inevitable with larger teams. While this may ensure higher end-product quality, it also means that work takes longer to process and reach you.
So, freelancer or in-house web designer?
Both Freelance Web Designers and In-House Web Designers have their pros and cons, so at the end of the day, you need to identify your web design requirements first. If your budget is low, you need a smaller project or love to work with professionals with a personal touch; a freelance web designer is the one you need to go for. On the other hand, if you need a large project and your budget is ample, then search for a web design agency instead.
If you do choose a web design freelancer, you couldn't be in a better place! 😉 Request a quote today, it only takes a minute!
How To Find Freelance Web Designers Near Me
The global freelance market is one of the fastest-growing markets in the world.
The freelance industry has shown the potential to become the driving force of the economy for many underdeveloped countries.
With such a significant boost in the market, these days you can find almost all types of products and services in the freelance marketplaces.
Web design is no different. Thousands of web designers all over the world offer their services at a competitive rate on various freelance platforms.
Finding the right freelancer for your task can be tricky.
With thousands of people offering the same service, you are bound to find some liars in there as well.
You can find amateurs posing as expert web designers.
Such things can not only ruin your project but can also waste your time and money.
However, irrespective of all these issues you can also find gems who know their profession inside out.
So today, I am going to help you find the best freelance web designers for your projects.
Google It!
I know it sounds quite obvious, but you should always start your search on Google.
Just type in 'Freelance Web Designer' and press search.
Google will then show you some of the best freelance web designers near you.
On Google, you can narrow down your search and choose a web designer that you feel will be able to work according to your needs.
Google uses over 200 factors to decide the rankings on search results, so it is also a great idea to choose a freelance web designer from the first page.
Ask For Recommendations
Even in the modern world of technology, word of mouth is still considered a compelling way of advertisement.
People use freelance services all over the world, so you are bound to find someone who has used freelance web designers before.
You can ask them for recommendations.
Top 10 Freelance Web Design Sites in the UK
Freelance websites are a great way to find the right freelancer for your project.
You get to see the portfolio and reviews of the freelancers before you can hire them, which is a great thing.
I have gathered a list of the ten most used freelance websites in the UK and hopefully help you find the best web designer for your project:
Fiverr
Upwork
Freelancer
FlexJobs
Toptal
99Designs
People Per Hour
Design Crowd
Behance
Dribbble
These ten freelance websites are great platforms to find professional web designers.
How Can Hiring A Freelancer Help You
Hiring the right freelancer can not only get the job done but also provide a lot of other benefits as well.
Hiring a freelance web designer can help you:
Save your time
Add value to your website
Take away the stress of additional work
Speed up the website launching process
Make your business website more SEO friendly
Make a more responsive website
Finding the right freelancer is tricky, but it's not that hard if you know where to look.
First and foremost, you should know what you are looking for and then search for web designers with a similar portfolio.
The online freelance websites mentioned in this post offer a great platform to people looking to find web designers near them.
However, if you like a particular freelancer then make sure to check their portfolio, rates, reviews and other similar information before you order.
Doing so will help you to find the best freelancer for the job.
How should I start my web design project?
There's more to a web design project than who to hire. After you've decided whether you want to go with a freelancer or agency, it's worth getting your ideas together on what you want from this project. Only then will you be able to communicate effectively with your web designer, which hopefully results in a better end result. Here are the main things to consider before contacting a web designer.
Website goals.
What specifically do you want from your website? Is it to sell products or services, or more information-based? Either way, knowing your goals will help to solidify your ideas at an early stage. Start by searching for sites similar to what you want, as this will help you visualise your needs more coherently.
Create a mood board.
Mood boards are an excellent starting point for a range of projects, particularly something visual like web design. Your mood board can be physical (on paper) or digital. Either way, it gives you a chance to hash some ideas out and should make everything smoother. Start with colours and visuals because these will be the most striking parts of your site. Build from there to include things like fonts and graphics, including different examples, so you've got options in the future. Get enough information so that you can choose, but not too much that you overload your designer with ideas.
Budget.
Of course, next comes the budget. There are two ways to go about this: pick your price and work to it, or do some research. This is why planning helps because you can then contact several web designers with your basic needs, and they can provide you with some estimates. Obviously, don't always go with the cheapest, or in fact the most expensive. Use price as a starting point, and then investigate some of their previous work. Also, you can expect the web design project to cost more than you think, so if you're just setting a budget before you start, I'd recommend making it at least 10% higher than what you initially decided.
Get yourself prepared.
Even before you've chosen a web designer, it can help to start building your resources so you can jump into the project whenever. This can include compiling images and graphics for your site (just make sure everything is correct with copywriting) and also designing a site map so your designer has a better understanding. One of my biggest tips for this part is to create a cloud-based storage centre for your ideas. This could be Dropbox or Google Drive, or similar, but using one of these will make things much easier for your web designer. Even if you live close to one another (which often won't be the case), online and cloud-based collaboration tools are the way forward.
Don't forget the contract.
Most web designers will provide you with a contract to sign that covers things like exit fees and expected work. However, even if they don't offer you a contract to sign, it can be helpful to both parties if one is set up. More than anything, a contract helps to manage expectations around things like cost and timeline. Sitting down and working this out before the project starts is an ideal way of keeping things proper between you. Want daily/weekly updates? Put it in the contract. Have certain expectations for communication? Put it in the contract.
My Web Design Services
Now that you've made the wise decision to choose a freelancer for your web design project, I'll tell you why you should hire me for it. Not only am I good at what I do, I go out of my way to ensure my clients are always satisfied with my work, as you can see from my reviews. Here are the main reasons you should hire me for your web design project.
1. I build websites in WordPress
WordPress is a dream tool for the client. Sure, big companies might prefer to have their sites built with custom code so they can charge more for website maintenance, but there are some obvious benefits to going with WordPress, particularly for smaller businesses with lower budgets. These include:
Cheaper & faster. WordPress comes with default features and settings that are essential to every website on the internet. These best practices maximise the performance of every website from the very start. If you went with a custom-coded website, then you'd have to pay plenty more to cover the time of setting up these core elements from scratch, let alone the next stages of development and design.
More scalable. WordPress has a vast plugin database that makes it incredibly easy to add new features to your website with the help of a worldwide community of passionate experts. Rather than having to create from scratch significant parts of your website like email notifications or blog features, which you'd do with a custom site, WordPress lets you download a plugin and add it to your website in seconds. It is that easy!
Easier for you to edit. There might be plenty of reasons why you'd want to edit your site in the future, and these might not be big enough for you to pay a web designer. The benefit of WordPress is that it's so easy to use, meaning pretty much anyone can make changes to their site with little to no problem, as easy as updating your Facebook profile information.
Safer. WordPress comes with its range of built-in security features, many of which you won't find by only buying a domain name and building your site. What's more, these safety features are built into WordPress, meaning you're secure at every layer.
WordPress is like renting a market stall in a shopping centre. It allows you to have your own space branded to your liking, but you don't have to worry as much about business rates and such. This gives you more time to focus on making your website everything it needs to be.
2. I'm easy to deal with
Like any freelancer, I try to make myself available for clients whenever they need me, which isn't usually a service you'd get from an agency. I'm almost always available during evenings and weekends, so no matter when your question pops up, you can ask it and know you'll get a response quickly. What's more, I go out of my way to make every experience as personal as possible. One of the most useful tools for building someone a new website is to know what they need, and the only way to truly understand this is by talking about it. This might seem obvious, but I go further than just working to your brief. I find out what you need and then build your new website around everything we discuss. Similarly, this means I'm also always on hand to change anything or re-work your design briefs. For me, customer satisfaction is the main priority, so I go out of my way to ensure my clients are happy.
3. I provide aftercare
What counts as website aftercare? Are you expected to maintain everything on your site after I've built it? Of course not! Not only is website maintenance probably not your area of expertise, but you've also got a business to run. I make a point of offering website aftercare so you can feel safe knowing your website is still being handled by a professional. Website maintenance includes things like security and backups, meaning your website will always be protected against a range of common security concerns. This is particularly helpful if you're dealing with customer data, in which case you can't leave your website with a professional.
CONCLUSION
If you're looking for a web designer, something you thought was going to be a challenge, hopefully, this article has helped you streamline your ideas. What's more, hopefully, this article has made you realise that I'm the web designer you've been looking for! I'll ensure that your project will be the very best it can be and will get you the results you expect. I don't think about each new project as another example of my work. I think about it as creating a stable and accessible platform from which your business can develop and grow. Above are just a few of the many reasons why I'd be the best web designer for your project, but if you still have any doubts, then please take a look at some of my examples of previous projects. Alternatively, contact me with your requirements or questions, and I'll happily discuss it with you.